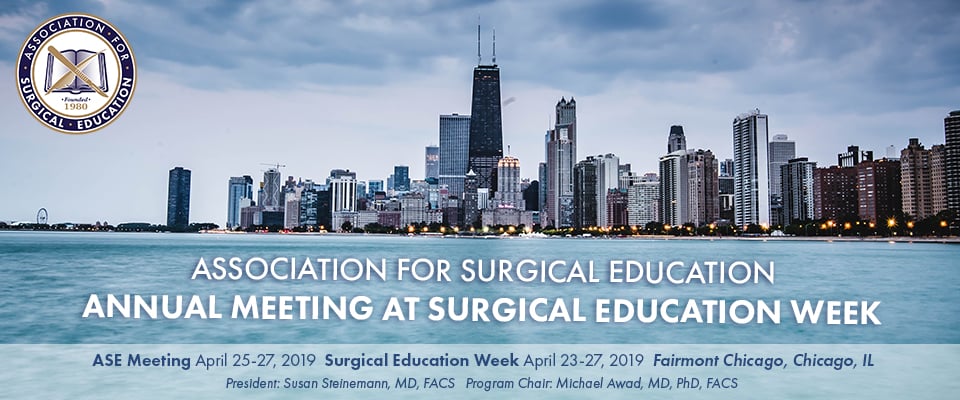 Abstract Submission Deadline EXTENDED TO:
October 26, 2018, 5:00PM PDT
click here to submit your abstract
The 39th Annual Meeting of the Association for Surgical Education (ASE) will be held Thursday, April 25 through Saturday, April 27, 2019 in Chicago, IL. During Surgical Education Week, the ASE will follow the Association of Program Directors in Surgery (APDS) Annual Meeting (April 23-25, 2019). We will share a common day (Thursday, April 25, 2019) when papers and presentations that are relevant to the attendees of both meetings will be presented.
The ASE 2019 program will include several speakers addressing timely issues in surgical education. It will also include scientific papers, workshops, and exhibits.
ASE 2019 Scientific Abstracts Timeline
Abstract Submissions Open: Monday, July 17, 2018
Abstract Submission Close: Friday, October 26, 2018 @ 5:00 PM PDT
Notifications of Proposal Acceptance will be sent in early January 2019
All presenters are expected to register for the conference.
The 2019 ASE Program Committee:
Michael Awad, MD, PhD, ASE Program Chair
Susan Steinemann, MD, ASE President
Adnan Alseidi, MD, Immediate Past Program Chair
Mohsen Shabahang, MD, PhD (1st Co-Chair)
Marc De Moya, MD (2nd Co-Chair)
Aimee Gardner, MD, PhD (3rd Co-Chair)
Nabil Issa, MD, Local Co-Chair
Nancy Schindler, MD, Local Co-Chair
Instructions for Abstract Submission
The Program Committee will only consider abstracts for papers which describe original work that has not been previously published or presented elsewhere and not currently under review for any other conference or publication. If an author violates this policy, they will not be permitted to present at ASE for three (3) years.
If an author submits more than one (1) paper as first author, only one (1) may be presented as a podium presentation by that individual. Any other accepted paper will be offered to be presented by another author listed on the abstract, or may be presented as a poster. ASE policy allows a maximum of three (3) podium presentations from any one institution.
Workshop proposals can be submitted for consideration regardless of whether or not they have been presented at previous meetings. If you are submitting for a Workshop, during the submission please select whether or not you would like to present a 90-Minute Workshop or a 45-Minute Workshop.
There is a 350-word limit for abstracts. No reference to the authors or the institution should appear within the body of the abstract or in the abstract title.
Abstracts will be limited to a maximum of one (1) image. Tables may also be included in the abstract but any text in the tables will count towards the 350-word limit.
Please adhere to the abstract size limit. Any abstracts exceeding the limit will not be reviewed. Please do not include any reference to institutions within the title or body of the abstracts.
The Program Committee will judge each submission on merit, originality, innovation, and relevance to the ASE membership. The goal of the Program Committee is to select papers that will advance scholarship in the diverse field of surgical education. All members of the Program Committee review all proposals and evaluate them using a global score. The final selection is made by the entire Program Committee to collectively meet the Committee's goal of producing a balanced program of excellent work.
Plenary Presentation and Podium Presentation presenters are required to submit a manuscript for consideration for publication in the American Journal of Surgery (AJS).
Manuscript Submission Rules
Authors of all abstracts accepted for Plenary Presentations and Podium Presentations must submit a manuscript to AJS
Manuscripts are not required for Concurrent Oral Presentations or Poster Presentations
Plenary Presentations manuscripts and Podium Presentations manuscripts must be submitted one (1) week prior to the ASE meeting (deadline is April 18, 2019) to the ASE Recorder
If a required manuscript is not submitted, the corresponding author and senior author are banned from presenting at ASE for three (3) years
Any extenuating circumstances must be discussed with the Recorder well in advance of the ASE meeting
Only persons who have made a direct contribution to the content of a paper or abstract submission should be listed as authors. The Association for Surgical Education uses the criteria provided by the International Committee on Medical Journal Editors (ICMJE) to determine authorship. Each author should have participated sufficiently in the work to take public responsibility for the content. Authorship credit should be based only on substantial contributions to: (a) conception and design, or analysis and interpretation of data, (b) drafting the article or revising it critically for important intellectual content, and (c) final approval of the version to be published. Conditions (a), (b), and (c) all must be met.
Abstract Topics
Assessment
Curriculum Development
Faculty Development
Program Evaluation
Simulation
Teaching Methods
Other
Session Types
PLENARY PRESENTATIONS: This session opens the ASE annual meeting and consists of nine minute presentations of completed research followed by a two minute discussion, one minute rebuttal, and three minutes additional Q&A. You will be asked to provide three (3) names for discussant of the paper.
PODIUM PRESENTATIONS: These sessions will consist of eight minute presentations of completed research followed by a four minute discussion period.
CONCURRENT ORAL PRESENTATIONS: These sessions will consist of five minute presentations of completed research followed by a two minute discussion period.
ePOSTERS: Digital Posters will be displayed on monitors at the meeting. The posters provide an opportunity for depicting ideas and research results, and a chance to discover and share activities in surgical education, and to have individual discussions with the poster presenters.
WORKSHOPS: These sessions are intended to be instructional sessions in which presenters demonstrate and teach particular skills or techniques. These should be active learning sessions focused on skills that participants can apply in their own institutional setting.
CANDLELIGHT SESSION: For information on submitting abstracts for the Candlelight Session click here.
THINKING OUT OF THE BOX: For information on submitting abstracts for Thinking Out of the Box click here.
SPEAKER DISCLOSURE OF RELEVANT FINANCIAL RELATIONSHIPS
In order to comply with the ACCME's Updated Standards for Commercial Support, The American College of Surgeons, as the accredited CME provider of this activity, has implemented a new disclosure process to ensure that anyone who is in a position to control the content of the education activity has disclosed to us all relevant financial relationships with any commercial interest as it pertains to the content of the presentation. The goal of this process is not to exclude people who have conflicts, but to manage these conflicts while benefiting from your expertise. Should it be determined that a conflict of interest exists as a result of a financial relationship you may have, you will be contacted and methods to manage the conflict will be discussed with you. In addition, all affirmative disclosures must be revealed by a slide at the beginning of the presentation. Failure or refusal to disclose or the inability to resolve the identified conflict may result in the withdrawal of the invitation to participate.
Abstract Submission Deadline EXTENDED TO:
October 26, 2018, 5:00PM PDT
click here to submit your abstract
If you have any questions, please contact the ASE office at 310-215-1226 (ext. 118) or email: abstracts@surgicaleducation.com.