Welcome to the ASE podcast!  The Association of Surgical Education is proud to announce the ASE podcast hosted by Dr. Kevin Pei. We hope you enjoy the below episodes.
Moderator: Kevin Pei, Yale School of Medicine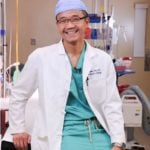 ---
Guest: Karl Bilimoria, MD, Northwestern University
Dr. Bilimoria from Northwestern University discusses the FIRST trial and flexible duty hours.  The study findings has been endorsed by many societies and governing bodies.  Dr. Bilimoria shares his vision of changes in the training paradigm.
Download for posterity: