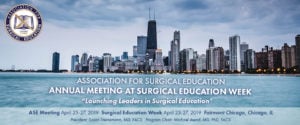 Save the Date for the Surgical Education Week 2019!
April 23 – 27, 2019
Fairmont Chicago – Chicago, Illinois
Registration for Surgical Education Week will open Winter 2018!
Association of Program Directors in Surgery Annual Meeting
Tuesday – Thursday
April 23 – 25, 2019
Association for Surgical Education Annual Meeting
Thursday – Saturday
April 25 – 27, 2019
For more information on the ASE Annual Meeting, please contact info@surgicaleducation.com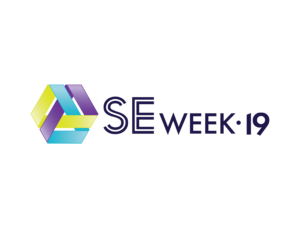 ---
The overarching purpose of the Research Collaborative is to help researchers complete high quality, multi-institutional educational research studies. As such, once applications are received, the Research Collaborative (a sub-group of the Education Research Committee) will select those that are appropriate for presentation during Surgical Education Week. The presentations at the spring meeting will help researchers 1) solicit additional sites for participant recruitment, 2) elicit feedback on research questions and methods, 3) learn about other ongoing multi-institutional research efforts. The Research Collaborative may also assist with IRB coordination, statistical analysis, research methodology, and site recruitment as needs are identified by study Principal Investigators.
The deadline to submit an application to the Research Collaborative is January 28, 2019. 
---
2019 Call For Abstracts
ABSTRACT SUBMISSIONS FOR THE SCIENTIFIC SESSION ARE NOW CLOSED
Notifications of proposal acceptance will be sent in early January 2019.
ABSTRACT SUBMISSIONS FOR THE THINKING OUT OF THE BOX SESSION ARE NOW OPEN
ABSTRACT SUBMISSIONS FOR THE CANDLELIGHT SESSION ARE NOW OPEN
---
As a way of showing our support for our troops, we would like to invite all ACTIVE military ASE members to attend the upcoming meeting and will waive their registration fee for the ASE portion of the meeting.
Contact ASE Staff (paula@surgicaleducation) for Military Invitation.
---
EXHIBITS AND INDUSTRY SUPPORT OPPORTUNITIES 
Surgical Education Week Exhibitor Prospectus
Secure your exhibit space by January 25, 2019 and save $150!
ASE Sponsorship Opportunities
Gain valuable exposure to ASE attendees by sponsoring the Annual Meeting.
---
FUTURE MEETING DATES
2020 – April 28 – May 2, 2020
Westin Seattle, Seattle, WA
April 28-30, ASE
April 30-May 2, APDS
2021 – April 27 – May 1, 2021
Westin Copley Place, Boston, MA
April 27-29, APDS
April 29-May 1, ASE
2022 – May 3- May 7, 2022
Grand Hyatt San Antonio, TX
May 3-5, ASE
May 5-7, APDS
2023 – April 11- April 15, 2023
Hilton San Diego Bayfront, California
April 11-13, APDS
April 13-15 ASE